Corner Notch and Radius Dies
Corner Notch / Radius Dies allow for quick production of any size header. Each Header Die includes one Corner Notch and three Radius corners. Size of Notch and Radiuses are built to order. When combined with a shear/break, a header can be made by a single operator in three easy steps.


Step one: Operator cuts four notches in precut brass header blank
Step two: Operator puts four 90 Degree bends onto notched sides of header blanks
Step Three: Operator Choses one of three radiuses to press onto the four corners

If Desired, a fourth corner radius can be substituted for the corner notch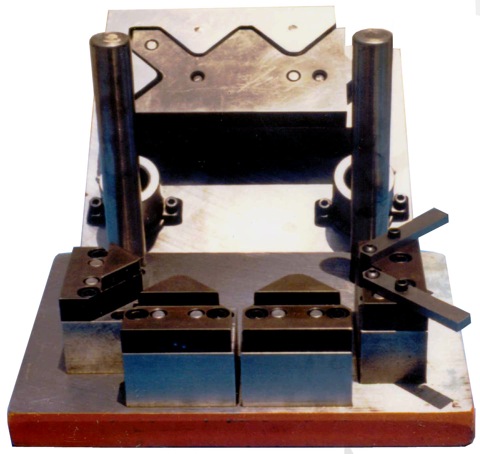 Universal Piercing Dies
The Universal Piercing Die is ideal for custom production of any size header plate. Each Piercing Die can be built to pierce a single row of any length header, multiple rows at the same time, and in a staggered configuration. Adjustable stops insure precise placement of first holes and recessed stripper allows for piercing of drop seamed headers. Universal Piercing Dies can be built for any thickness of Brass, Copper, or Aluminum and can be built to pierce flat, pierce with depression, and can blank with depression to accommodate Cupro Braze requirements.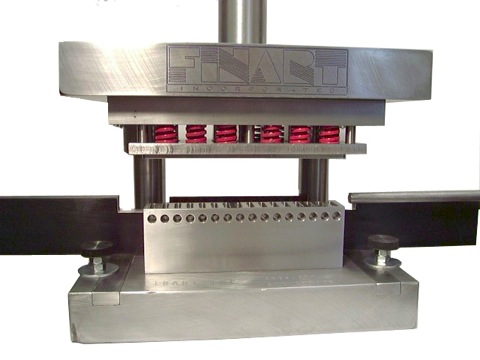 One Shot Drop Seam Header Dies
The One Shot Drop Seam Header Die is ideal for medium and high volume Header production. No secondary operations are necessary. A single rectangular flat piece of brass yields a finished header, complete with corner radiuses, and a raised seam all around. All one shot drop seam header dies are built to customer specifications and can accommodate various brass thicknesses.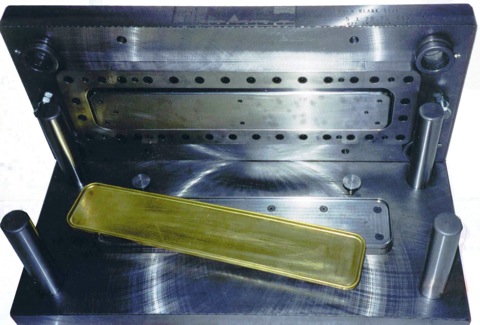 Tube Piercing Dies
Tube Piercing Dies allow for quick production of one piece tube tanks. Tube holes can be pierced or blanked for various bonding requirements. Tube Dies have a manually operated two piece mandrel for deep pierced tubes or a pneumatically operated mandrel for blanked high volume work. Dies can be built with disengaging punches to accommodate various lengths and tube configurations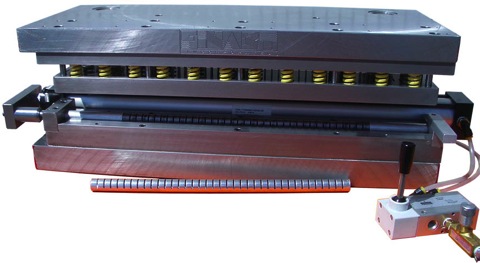 Tube End Cap Dies
Tube End Cap Dies create press fit ends for pierced or blanked tube header tanks. Caps can be made to fit any diameter tube or custom shaped "D" Tubes.