Corrugated Core Assembly Fixture (
Manual)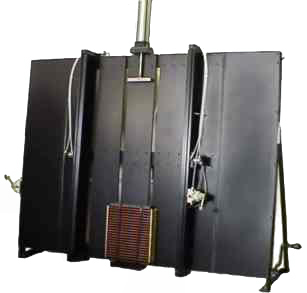 Model shown is 48" high and 64' wide in a manual style
The Finart Radiator Assembly Fixture is available in a standard maximum core size of 36" high and 44" wide but is available in almost any required dimension and can accommodate any tube size and any row arrangement.

Assembly fixtures are available in Manual and Semi Automatic style.



Corrugated Core Assembly Fixture (
Semi Automatic)
Currently Updating









Flat Fin Assembly Table


Currently Updating
Pictures up soon









Tube Stuffer



Tube Stuffers can be built hand operated or foot operated. They greatly increase the speed of building charge air cooler or oil cooler tubes. Each Tube Stuffer will accommodate a range of desired sizes and length.